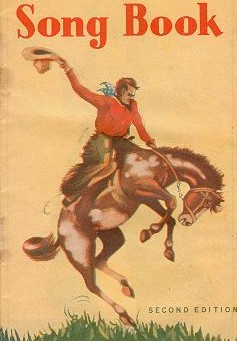 VOICES WEST: SEX IN THE WEST COWBOY-RELATED DOCUMENTS
Sex in the West Introduction
This page http://www.cowboysong.com/bib/bibint.html
[Homepage] [Introduction] [Cowboy Poetry] [Cowboy Songs] [Postcards]
---
<! TOP-OF PAGE LINKS --> [Contents] [Next page]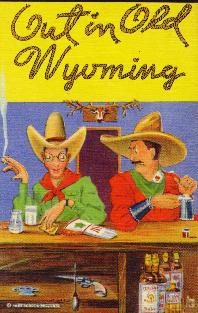 "Out in Old Wyoming" Denver: Sanborn Souvenir Co., (C.T. Art-Colortone), [1939]
This section will add to material recovered in "Male-male intimacy in the American West" first published in Jonathan Ned Katz's Gay American history (New York: Crowell, 1976, p.766-769). Over the last 20 years, so much more has been published on same-sex love and friendship in both the American and Canadian West. In the same period authors have been careful to not talk too openly about the intensity of male-male affection, for example the biography of Witter Bynner by James Kraft. Others have been accused of misreading the evidence, for example the bed-sharing in the youthful years of Mark Twain (see Andrew Hoffman). There is no doubt that much has changed over the last 150 years.
What I will do is introduce some key works and encourage the reader, from the few lines I have discovered, to seek out the work and make up his or her own mind. There is a large body of work on friendships on the east coast of the United States and a growing body of work on California communities. George Chauncey's Gay New York: gender, urban culture and the making of the gay male world, 1890-1940 (New York: Basic Books, 1994), has set a high standard for other community scholars. We will have to look at many sources, over periods of much change, and try to interpret the evidence without too much misreading or extrapolating from present community structures and spaces. Are wide-open spaces totally different than the streets of New York City? The arts' community of Sante Fe or Taos in the 1930s, or Denver in the early 1900s, can they compare to Boston or New York? Did the trials of Oscar Wilde get coverage in the newspapers of Leadville, Colorado? Did single effete men - or a few couples - find an accepting place in the ranges of the southwest? There may be similarities that will surprise the investigator.
I hope the few pages that follow this introduction will grab the interest of the readers, and have them note what I have missed, especially in local sources. Let me know about these and I will add them to my bibliographies.
---
"Whereof the shining goal was comradeship."
Contact owner: Alan V. Miller at millera@cowboysong.com
Last revised: November 9, 2005